Positives:
Unique and luxurious
Automatic
Helpful to the elderly and for those with certain disabilities
Multifunctional
'Space saver'
Self-Cleaning
Hygienic
Reduces toilet paper consumption
Negatives:
Expensive
Doesn't give access to more complex disabilities
Bulky
A lack of colours/aesthetic options
Often requires additional help to install
Electricity/water bill increase
YOU may think this is a bit odd, to review a lavatory. Don't worry, I'm sat at a table! But seriously, what's there to know? You go, wipe, wash and go. Right? Well, that's what I've been accustomed2020
to for almost 32 years of my life, until I came across the WRAS (Water Regulations Advisory Scheme) approved Bio Bidet from PDS Hygiene.
When my late father was diagnosed with Motor Neurone Disease (ALS) several years back, he eventually reached a point where he needed help doing things most of us would take for
granted. This included eating, drinking, running, walking, throwing a ball, waving 'hello', standing up and, of course, visiting the loo. Then one day, as a gift, a friend of his bought him the 'Bio
Bidet BB-1000 Supreme' (sounds like a luxury upgrade from The Sims, right?) and suddenly a seemingly ordinary routine that had debilitated him for so long, became a little easier. Naturally, it
didn't change his whole life, as anyone who is familiar with MND (ALS) understands it is a degenerative disease that, usually, is terminal. However, it made a big difference for him in a small
way. This is a genuinely useful product, but what does it do and how does it work?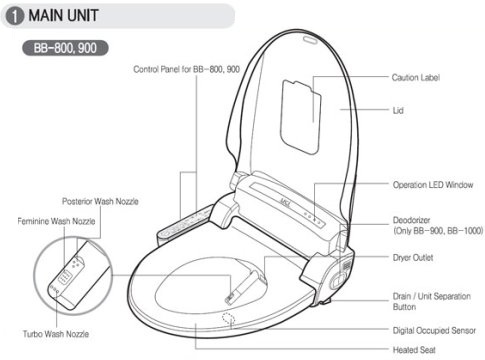 DESIGN + FEATURES
The most striking thing you may notice first is its size. Remember, the Bio Bidet is more of a modification to your existing lavatory, and not a new one entirely. Therefore, your original seat is
replaced by the thicker addition of the Bio Bidet's and, when closing, will smoothly lower itself automatically (without a bang!). Now although the manufacturer boasts that it's "a brilliant space
saver", it is quite chunky and most people, who have never seen one before, will definitely notice something large* and futuristic-looking about it. That said, it's what lies beneath the 'bonnet' that
counts here. Firstly, the seat has a sensor that detects pressure and, as long as you've switched it on (more on this later), will heat up to a pleasant temperature* and stops that sense of dread we all
feel in Winter! Next up are the 'mod cons' and is easily my favourite part. Once you've finished your business, you have a multitude of cleansing options which can be operated via the generously
sized remote control or from a slightly more limited pad on the back-right side of the seat. You can select POSTERIOR WASH, which calls on a little nozzle inside the pan to shower your behind
using a wide-angled water-based spray. Or select FEMININE WASH, which is lighter, as if someone was using a sprinkler on you. Finally (and I was hesitant to try this), TURBO WASH. This last
one is like having a row of firemen simultaneously blasting you with water hoses, but it really does do the trick.
Of course, you can manually adjust the water pressure and nozzle position via the remote. Once you've given yourself a real clean, on comes the dryer. Again, you have to operate this yourself and
it lasts for about three minutes. You can adjust the temperature here too. Finally, if you're having such a good time that you can't bear to leave the bathroom, there's a 'massage' option which will
finish you off and have you shuffling towards the sink shortly afterwards. All this can be done from the press of a button and there's a nice little LED display on the seat itself to tell you what it's
doing. There's also an 'eco' option which consumes less power but limits some of the functions.
USABILITY + INSTALLATION
There's no doubt, this is a revolutionary machine. It's basically a robotic toilet. But is it easy to use and what about fittings? Well, for the more able bodied, this is a pretty simple device to run.
You sit down, enjoy the warmth, press a few buttons and let the lavatory do the rest. But if you have a disability that involves difficulty standing up and sitting down or using your fingers and
hands, you'll find the Bio Bidet pretty troublesome. Installing the machine isn't any easier. My father had to get a plumber in to connect it all up, because the water that cleans you can't be allowed
to interfere with the water in the tank that flushes everything away. There is a rubber pipe attached to the Bio Bidet designed to tackle this, but unless you know what you're doing with the
pipes in your property, it's best left to the professionals. Secondly, power. As we know, you can't have electricity sockets lining your bathroom. It's usually illegal, not to mention exceptionally
dangerous. This means, you'll need to get power from outside the bathroom so the bidet can operate as designed. In my father's case, an electrician had to drill through a wall and set up a switch
on the other side. So it's all easily doable, just bear in mind it's not as simple as it seems.
VERDICT
I really like, not only the design of this machine, but the idea behind it. I get the feeling it's aimed at the elderly and for those with disabilities, but can't help wondering why the Bio Bidet's
makers didn't think harder about its operation. Yes, it can be used by able bodied people too and really will save you on your toilet paper bill, not to mention the odd rainforest, but having a
lavatory that can help a disabled person without the need of someone else to operate it could have been a real winner. Voice command anyone? Anyway, the Bio Bidet is reasonably economical
given its functionality and once it's purring away, your visit to the toilet will probably take longer as you finish that book you'd been meaning to catch up on. You may even find a name for the
machine itself (please, don't). That said, as far as price is concerned, it's not cheap as most I came across were around the £500 ($700)* mark and if you factor in labour costs for plumbers etc. it
can go even higher. All in all, it's a great idea and performs to spec, especially if you'd like to be massaged by your toilet seat. I just wish more had been done to make installation and usability that
little bit more intuitive and accessible.
Enjoy!
* I'd advise against installing it next to the sink unless you're sure you have enough room
* You can control the temperature via the remote
* Prices vary, but if you're willing to take the risk there are second hands ones online