I am a self-confessed passionate One Piece fan. This addiction stretched from the moment I first watched the anime on the television, and that was light years ago. And being a die-hard fan of Zoro, Luffy, Sanji, Nami and the rest of the Straw Hat crew (including their allies, supporters and even enemies), I developed the hobby of collecting any One Piece thing, such as high-definition videos, wanted posters for these pirates, and especially, action figures. Countless One Piece action figures have already
been mass produced and I already have quite a large collection. I bought a few from local stores here in my country, but after learning about bootlegs (in other words – fake, imitations, copycats, substandard duplicates, or simply not original items), I become wary of the items I took interest in. Alas, what I have seen in the stores here are in fact bootlegs. The packaging is awful (too many adhesive tapes and low quality glue) and lacks the manufacturer's sticker. The action figure itself is not properly-painted, has minor distortions, and it gives you feeling that something is not quite right. So after that experience, I decided to acquire original items only, and then looked for some trusted importers online. One of the names that caught me was PLAMOYA.
Plamoya is an import site based in Tokyo, Japan. After several transactions with the company, here are some of the things I have to say about them.
Product Catalogue
Plamoya has a huge collection of Anime items, not only of standard action figures but other items as well like artbooks, manga, beyblades, DVDS and CDs, t-shirts and many more. They even have items which have long been reproduced by the manufacturer or are long sold out in other import sites. All their items are also are brand new, so if you are looking for some cheaper second-hand merchandise, better look elsewhere. If you run into an item which is currently sold out, they can notify you via email if product becomes available. Similarly, you can pre-order items months before their release. Plamoya also provide comprehensive product information, complete with photos and reviews from customers. They even provide you with product weight and box dimensions which can help you estimate the cost of shipping. Plamoya also e-mails you regularly (every week or two) for new product arrivals.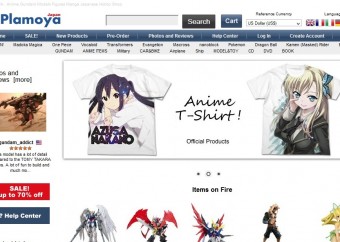 Prices and Payment
Plamoya is an import site which you must constantly look for items on sale. Their prices are very fluctuating. Some days, prices are too high; but in other days, products are put in sale for even as low as 70%. Most of the products I purchased are on sale for at least 30%. Comparing to other sites, they generally have the most reasonable prices. They also give you discount coupons for every transaction completed with them. You may as well write reviews for the items you bought and these reviews come into a raffle draw every month. Of course, the winners will get more discount coupons.
I think the shipping cost takes a substantial part of the total amount. Plamoya ships direct from Japan though EMS and SAL (registered and unregistered). Items in stock are shipped within 2-7 business days from order. You will also receive an email once order is shipped.
As for payment method, Plamoya only accepts Paypal and credit cards through Paypal. They only accept Japanese Yen and your Paypal or credit card will be charged in terms of yen (card issuer will do the conversion to your local currency for you). As of the moment, Plamoya does not accept cancellation.
Packaging
Plamoya also sees to it that orders are packaged well before shipping. Items are wrapped in bubblewrap and then covered with packaging paper. However, I found their package boxes to large for the items being placed inside. There is just too much space and the entire package appeared too bulky.
Verdict
So what are my final thoughts? Plamoya is a great site to import original items from Japan, especially if you are looking for items that have been long sold out. They offer great items on sale, with reasonable shipping costs as well. As for new items, you may look out for other import sites since prices may not vary greatly.