Name is one of the members of the Straw Hat crew in the hit anime series One Piece. With cat-like charm and sexy wits, she is the official navigator of the pirate gang. Like all other members, she also has a price upon her head – a hefty sum of 16,000,000 belly (unit of monetary in One Piece World). She does not possess any special power but she has a combat weapon – a bo-staff which can create and manipulate weather.
Since 2010, Bandai have produced a wide collection of One Piece action figures in a series they called Figuarts Zero. The company have already created several versions of One Piece figures, including New World, Strong World, Battle and Dressrosa. In August 2012, they released the Nami Battle Version. It was the first item I acquired from import site Plamoya at such great discount. To my satisfaction, the item is a credible representation of Nami in the manga and anime series.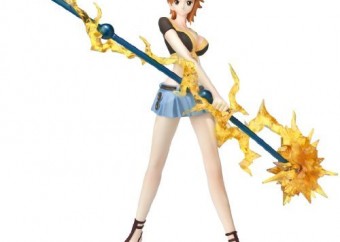 The Good:
Nami is more than just a ridiculously voluptuous structure and in their Battle Version, Bandai successfully portrayed her as worthy of her status as a notorious pirate gang member. In this action figure, Nami is poised for a battle attack with her signature Climatact staff. The PVC item is meticulously-painted with vibrant colors. Her skin is smooth and porcelain-like and her tangerine hair is perfection. Her tight yellow-hemmed dark brown top, movable light blue skirt and Spartan sandals complement her skin tone. She even wears a bracelet with a large green stone. And like other versions of her, her mammoth boobies still stick out.
But what I am most impressed with is her Climatact. Bandai have included two designs – one is just a simple staff while the other comes with a lightning burst. The latter is what amazed me more. The translucent lightning burst runs along the length of the metallic-blue staff. It starts with a tiny spark in the upper end and culminates with an explosion at the lower end, the color gracefully changing from faded yellow to electric orange. It really looks good on Nami and makes the entire assembly more dramatic. But warn you, the Climatact staff and the lightning effect are quite complicated to put together. However, Bandai accompanied the item with a sheet of instructions so the task is still easy and breezy.
Nami's face can also be replaced with a winking alternative (yeah, two faces to choose from). The action figure is also very stable. Aside from the transparent support for the Climatact, Nami comes with a clear plastic hold-up that matches the back of her leg. So you have two options – it's either you make her stand using the standard name-plated platform or the clear support.
The packaging is also commendable. It is not very large and bulky, and the gradient orange cover and writings in the box suit well the item inside.
The Bad:
I could not say anything wrong with the action figure. But I have one wish though. I would have wanted more replaceable faces. The normal and winking faces are fine with me (the winking face actually fits Nami's playful and manipulative personality) but I would have preferred an angry or fierce expression (it's Battle Version anyway!).
Verdict: Bandai's Figuart Zero Nami Battle Version is a winner. The "Cat Burglar" sculpture is intelligently made, with perfect skin and outfit to match. The action figure has no stability issues as it can stand rigidly on the standard base or simply using the clear leg support. The metallic-blue Climatact staff with its translucent yellow-to-orange lightning burst is its most outstanding and distinguishing feature, truly marking Bandai's ability to create quality products at reasonable price.