Cape town is a friendly city  located at the most southern tip of Africa. It is considered a very special location by many. Most visitors tend to return quite frequently.
Some of the highlights in Cape Town includes the following:
Awesome beaches (Camps Bay, Clifton and Houtbay in particular)
Spectacular views across the Atlantic with fantastic sunsets.
An amazing cable car trip to the top of the mountain which is quite similar to what visitors in Rio de Janeiro experience
Some worldclass cuisine
Affordable medical, dental and plastic surgery for medical tourists
Activities such as surfing, diving with sharks, fishing, wine tasting and mountain hiking are just a few to mention.
Home to some of the worlds most beautiful golf resorts.
The beauty of Cape Town is unrivaled in many ways, however please note:
 Warnings about Cape Town: a cultural hub with prime universities, vineyards and amazing beaches, parts of the city has degraded significantly due to recent migration from the DRC, Mozambique and Zimbabwe, resulting in the slums of the city being overpopulated with unemployed migrants as many, in search of a better life have flocked to the area. Whilst the beauty of Cape Town is undisputed and locals are really friendly, problems with crime are rampant and Cape Town has one of the highest murder rates in the world. European visitors should also be aware that South Africa has a policy of "affirmative action" which does prevents the white population from being employed in senior positions and this tendency is spreading on a social level too, resulting in an unpleasant experience for some. It is unclear if this trend will reverse, or continue, following the death of Nelson Mandela.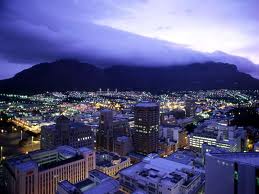 What is great about Cape Town is that it is very accessible from both the US and Europe with several daily flights arriving directly at in the city and others connecting via Johannesburg. Visitors arrive from all over using KLM, Emirates, British Airways, Virgin Airlines and South African Airways.
Share with us your views and experiences of Cape Town South Africa below.