Review
Instagram Review
Positives:
Instant sharing, you can take a photo or video via the app.
Love the filters and the adjusting, that came not long ago.
Direct private sharing to other users.
Very simple, yet very powerful photo and video editing and sharing app.
Negatives:
It allows only perfectly squared photos i.e. 612 by 612 pixels.
You cannot separate videos from photos.
Map shows all of your geo-tagged shots public.
Instagram, as we all know already, is an online mobile photo/video edit and sharing social media networking tool that allows users to take a photo or record a video, edit it with preset filters or other basic adjustments, and share it on a variety of social media platforms like Facebook, Twitter, Foursquare, Tumblr, Flickr…
Getting started: you create your profile with an email address, user name and password. Afterwards, if you want, you can connect your account with other social media accounts that you posses.
Instagram was launched in 2010 by Kevin Systrom and Mike Krieger, and gained popularity with over 100 million active users in 2012 and over 300 million in 2014.
68% of Instagram's users are female and 32% are male.
The application was acquired by Facebook in April 2012 for US $1 billion.
Instagram is available for iPhone, iPad, iPod Touch, all the Android handsets and Windows Phone. It's available in a web version, but you can only browse, like photos and see your profile, you cannot post.
The app is free.
Over the years Instagram has changed and improved through the updates they release constantly.
I'm an active member since June 2012.
My review is about the Android Version 6.16.1, that I'm currently using.
When you tap on the Instagram icon, you are placed on the Home panel, where you can see News Feed from the users that you're following. You can scroll down in order to see posts, like images and post comments.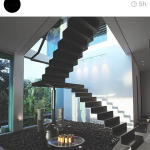 When you comment, you are able to tag/ping the user you are referring the comment to. Otherwise they won't receive notification about the comment, even though the comment would still appear on the photo or video.
There is the search button which takes you to another panel where you can browse photos, people or hash-tags.
You can choose whether you like to see the post in Thumbnails or Filmstrip mode.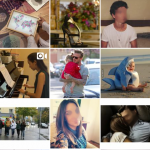 The camera button enables you to take a photo or a video, or to browse the gallery for a photo in order to select for editing and sharing.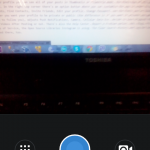 The activity panel is divided in two parts where you can see You and Following activities. In You, you can see who followed you, which of your friends from other social media (usually Facebook) joined Instagram, who followed you, who commented on your post, who tagged you in a photo, video or comment. In the Following section you can see activity of the users who you're following, who they followed and recent posts they liked.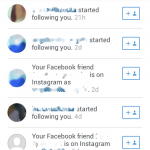 On your profile you can see all of your posts in Thumbnails or Filmstrip mode, the Photo Map of all your geo-tagged photos. In the right top corner there's an option button where you can customize the app in order to manage Linked Accounts, Find Contacts, Invite Friends, Edit your profile, Change Password, see the Posts you've liked, to manage whether you want your profile to be private or public (the difference is if you want it private you get to allow users to follow you), adjusts Push Notifications, Camera, Cellular Data Use, decide to Save Original Photos or not, Save Videos After Posting or not. There's also the Help Center, Report a Problem option, Ads, Blog, Privacy Policy, Terms of Service, the Open Source Libraries Instagram is using. The Clear Search History and Log Out button are placed there, too.
While editing a photo, other than the basic adjustments of Brightness, Contrast, Warmth, Saturation, Hihglights, Shadows, Vignette and Sharpen; Instagram offers wide variety of preset filters: Slumber, Crema, Ludwig, Aden, Amaro, Mayfair, Rise, Hudson, Valencia, X-Pro II, Siera, Willow, Lo-Fi, Earlybird, Brannan, Inkwell, Hefe, Nashville, Sutro, Toaster, Walden, 1977 and Kevin. You can manage which of these preset filters you want to see enabled, and you can adjust the percentage of the filter applied on the photo.
The Lux effect is a tool that enables you to quickly customize the exposure and contrast through a simple 100-point slider.
Initially there wasn't a video sharing option. Instagram enabled video sharing in 2013. Users can record and share videos lasting up to 15 seconds. While editing a video, other than choosing a frame, there are also preset filters: Stinson, Vesper, Clarendon, Maven, Gingham, Ginza, Skyline, Dogpatch, Brooklyn, Moon, Helena, Ashby and Charmes. You cannot adjust the percentage of these filters.
Instagram now lets you import an existing video from your library, but not all file types are supported and the limit is still set up to 15 seconds.
When on the Home panel, on the right top corner there is a button that is called Instagram Direct. It was announced in 2013 and it is a feature that allows users private direct photo and video sharing.
Instagram automatically gathers all your past Instagram posts where you activated geo-tagging and puts them on a map. On your profile you can tap on the Photo Map and see all your posts sorted by the locations you provided. Personally I don't like this idea, since it's public, and requires extra attention when providing certain locations like home for example.
Instagram is a very popular and powerful app that supplies you with tons of inspirational content to browse, and enables you to create it too. It's very simple to use and is already established as one of the top social media platforms.