Review
The Simplest Smartwatch, the Pebble Smartwatch
Positives:
- Simplest Interface
- Cheaper than other Smartwatches
- Can be paired with both Apple and Android Smartphones
Negatives:
- Does not have too many features
Pebble is the first company that came up with the Smartwatch idea. Unlike other categorized devices like iOS Apple Watch and Android Smartwatches, Pebble Smartwatches are compatible with both Android phones as well as iPhones. Talking about the Pebble watch, it is one of the simple Smartwatch that we have seen till date. Leaving all the complexities behind Pebble Smartwatch watch doesn't have many functions like calling and browsing, but is really beautiful and classy. So without any delay, let us have a look at various aspects of this Smartwatch from Pebble.
Pebble Smartwatch Review
Pebble Smartwatch Design
The first thing that you will observe about the Pebble Smartwatch is that how simple it is. It does not contain any buttons or curves; it is just simple as it could be. It is just like a simple watch with the dimensions 50 x 32 x 11mm.  This simple design also distinguishes it from other Smartphones which are loaded with designs and curves.
The outer chassis, screen as well as the buttons of Pebble Smartwatch are made of plastic. You might think that the device is fragile, but it is not so. Pebble Smartwatch is really strong as well as water resistance. The device could work perfectly up to 160 meters underwater. This simply means that you need not to worry about it while you are showering or going for a swim. The watch also works absolutely fine between -10 degree Celsius to 60 degree Celsius.  The middle portion of the watch is assisted by the rubber strap which is bump as well as scratch resistant.  The strap is not so thin and is 22mm in diameter.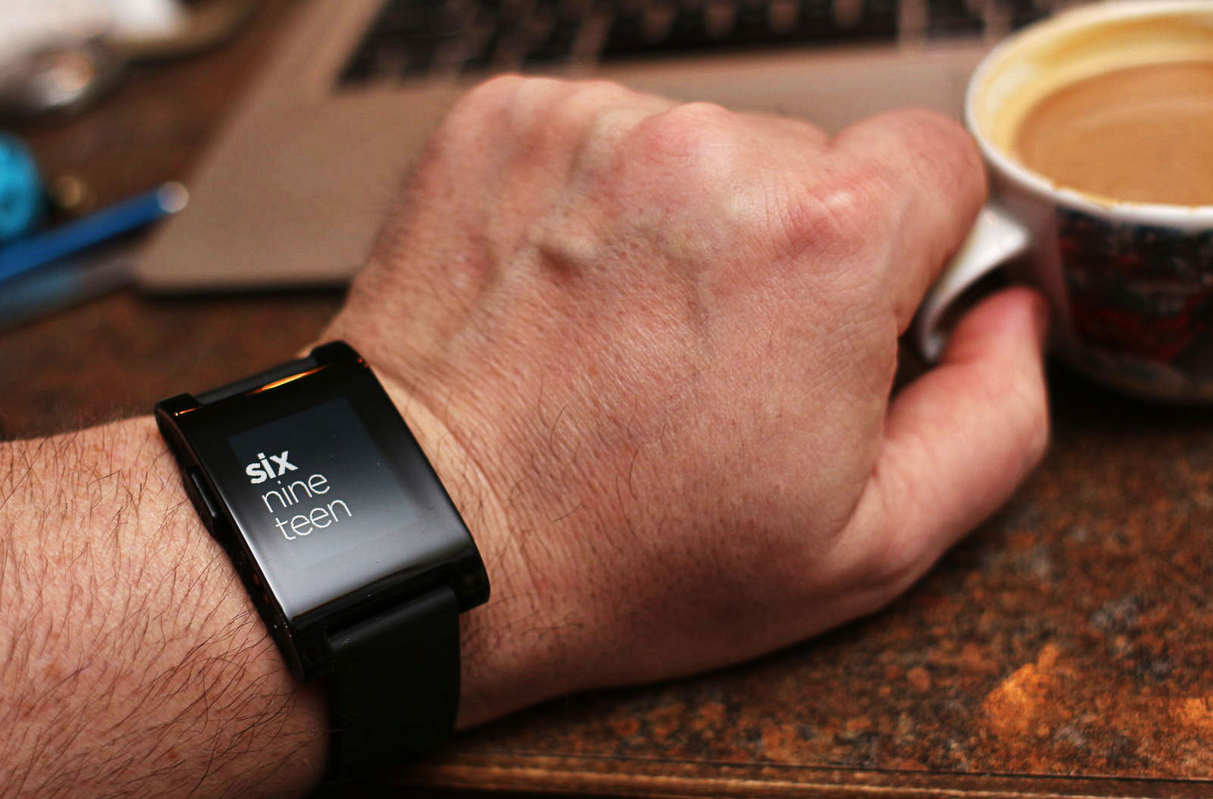 Pebble Smartwatch Features
Pebble hasn't tried very hard to make the watch a mini Smartphone. All you get on the Pebble Smartwatch are notifications of SMS, Mails as well as Social media notifications that you receive on your Smartphone.  In addition to that there are many unofficial apps that you can install in this Smartwatch. The watch allows you to add a lot of pictures as your home screen wallpaper with an ease.
The display that you get on the 1.26 inch screen is e-paper with screen resolution of 144 x 168 pixels. The watch is controlled by 4 buttons. The back button of the device is present on the left and side, while the up as well as the down button is present on the right hand side of the watch.  The backlight of the device is self-adjustable which depends upon the external light level. The screen also comes alive when you flick your arm.
The charge point is present on the left hand side of the watch. If you wish to pair your watch with your device, you can easily do it using Bluetooth on your Smartphone as well as the application that you have to install on your Smartphone. You can toggle the notifications using the app only.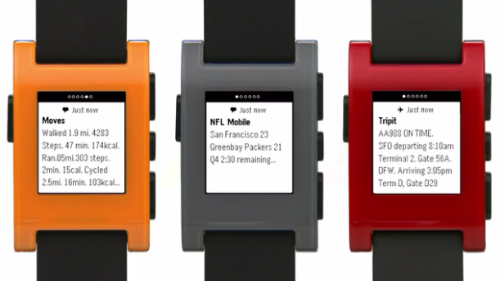 Verdict
Overall, Pebble Smartwatch is a simple elegant as well as amazing Smartwatch for those who want something more from an ordinary watch.  There is also nothing to complain as Pebble was the first company to take a step forward in this area. Since this Smartwatch does not possess any extraordinary features like the present Smartwatches, it a lot cheaper than high end Smartwatches like Apple Watch and Samsung Gear. So, whether you own a Smartphone or not, if you are looking for a trendy as well as something new for your wrist at cheap price, you must definitely give Pebble Smartwatch a look.