Positives:
Deep, rich and chocolatey
Chips are in the mix
Inexpensive yet with incredible quality and flavor
Negatives:
No negatives to speak of- these are brownies after all!
If you haven't tried Ghiradelli's brownies yet, you simply must.
They are fabulous.  I live in a house full of choc-a-holics and while I wasn't always a choc-o-holic, I have blessedly been converted into one.
I wasn't always a raving lunatic chocolate lover.  In fact, growing up, the only chocolates we would ever have were See's chocolates and that, only once a year for the Easter holiday.
But my husband truly believes that loving chocolate is in his genes.  He likes brownies, but his one true love has always been home-made Nestle Toll Chocolate Chip Cookies.
However, these brownies took him by surprise
Fabulous flavor combinations for the chocolate lover in you

My sister-in-law made these brownies for a family get together and I just had to have the recipe.  No recipe needed, she replied, just pick up a box of Ghiradelli Brownie mix at your local grocery store or Costco.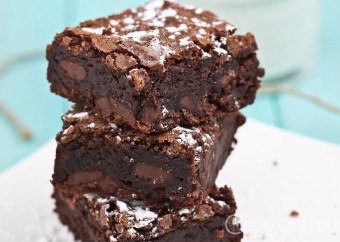 Ghiradelli has several different flavors available as of this writing:
Dark Chocolate
Double Chocolate
Caramel Turtle
Ultimate Chocolate and
Ultimate Fudge
If you're wondering which one to choose, they are all wonderful.  Our particular favorites are the Dark Chocolate and the Double Chocolate varieties.  The flavor is very deep and rich, without being overly sweet.  And the addition of chocolate chips in the mix is fantastic.
My husband has always been one to add semi-sweet chocolate chips to brownie mixes, the more the chocolatey, the better, in his opinion!
But these mixes are perfect just the way they are.  Nothing at all needs to be added to them to enhance their flavor.  They are just right, tender and utterly luscious.
These brownies are 'the Truth"
So, many times, when we had some sort of a get together that entailed me bringing a dessert,  I would bring these brownies.  You know, brownies are brownies and mostly the kids and the dads would gravitate toward them, but let me tell you:  When the dads took their first bite, they would always be blown away.
In fact, I had one wife come up to  me and tell me that her husband had sent her to me to ply the brownie recipe out of them.   She said that he declared loudly upon taking his first bite, that these brownies were "the truth!".
I have no idea what that means, but I think that means that they are good.
I had another event where I dropped off my dessert (the Ghiradelli brownies) and had to leave right away.  I then received a group e-mail the next day, asking if anyone knew who had dropped off the brownies because she wanted the recipe for her husband.
I had another get together that I was planning, a birthday party we were throwing for a friend of the family, and when I asked him what he wanted for his birthday, he asked for "my" famous brownies.
I was happy to take the credit for them but I must admit that I felt a little guilty too, after all they weren't my own recipe.
I don't know what it is about the guys but they go crazy for these brownies.  Maybe there's a lesson in there somewhere, I don't know.
All I know is that they are easy to make, pretty inexpensive and absolutely delicious.