After doing some reviews about smartphones and tablets, today I choose to look at the motor world. This time, I came across the 2015 Subaru Outback model that a friend of mine bought early this year. This Subaru outback is a 5-passenger crossover wagon provided in 4 trim levels: 2.5i, 2.5i Premium, 2.5i Limited and 3.6R Limited with the numbers making reference to the engine displacement.
The 2015 Subaru Outback is a redesigned model with a big cargo space, a typical all-wheel drive, a good clearance off ground and competitive in terms of price. The most important developments with the new car are the availability of more space and a high fuel efficiency, technological upgrades and better cabin materials. Ideally, the 2015 Subaru outback is a very good choice for a family outing.
The overall width and length additions do not exceed an inch. However, there is an increased interior space of about 3 cubic feet. Rear-seat passengers have more room. The design has also realized an increase of about 2 cubic feet in the space for cargo. In terms of size, the 2015 outback can be compared with a Volvo XC70. It is relatively 10 inches longer than a Toyota RAV4.
DESCRIPTION + FEATURES
The 2015 Subaru outback model is a very improved car model in terms of car features and general performance. If a Subaru car is the type of car you want to buy, then here is a list of features you will find in the base 2.5i model:-
• A 17-inch steel wheels
• 60/40-split-folding rear seats
• Full power accessories
• HD radio, an iPod/USB audio interface and a CD player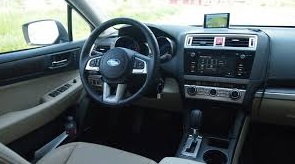 • Air conditioning
• Bluetooth phone and audio connectivity
• A 6.2-inch touchscreen interface
• Roof rack rails – with fold-out crossbars
• Rruise control
• Adjustable driver seat – height factor
• A rearview camera
• Tilt-and-telescoping steering wheel
• A four-speaker sound system enabled for smartphone integration
The features look interesting and it is something you would consider before buying your next car. An important feature of the Subaru Outback is the continuously variable automatic transmission (CVT). The choice of engines for all the models range from 2.5L x 4 cylinder to a 3.6L x 6 cylinder.
The Revised CVT is an important feature that along with the active grille shutters are useful in reducing drag by the wind. The car model has adopted an electric-assist power steering that is responsible for boosting the fuel usage. Both types of engines realize a 2-mpg increase in the combined fuel economy approximation of the EPA.
The 2015 Subaru outback model cabin interior has significant improvement from the previous one both in terms of ergonomics and quality of materials used. The front seat cushion airbags have a huge promise of safety. Safety is also enhanced through a rearview camera across the board with a blind-spot monitoring during lane change and other systems of rear cross traffic alerts. Again, the safety features include 4 x wheel antilock disc brakes, traction control and stability, side curtain airbags, front seat side airbags and a seat cushion for holding occupants in position in case of an emergency.
The 2.5i premium Subaru model has all the base equipment of a car together with a 17-inch alloy wheels, heated front seats, an upgraded gauge cluster, fog lights, an eight-way power driver seat fitted with power lumbar, windshield wiper de-icer, heated mirrors, dual-zone automatic climate control, a cargo cover, a leather-wrapped steering wheel, a 7-inch touchscreen interface and an upgraded six-speaker sound system with a satellite radio.
The car's performance in terms of power is also good. The 2.5l 4 x cylinder engine generates 175 horsepower and a torque of 174 pound-feet. The 3.6l 6 x cylinder values are 256hp and 247 lb-ft. Therefore, the car gives you good performance in terms of power and speed. The car is aimed at providing driving solutions
POSITIVES
• An awesome and spacious interior
• A Very high-efficiency engine
• A great visibility experience
• Above-average off-road performance
• High stability features
• High safety features – both during driving and in emergency cases
• Better and more intuitive controls
NEGATIVES
Despite its huge development, the car still lags behind in terms of towing and cargo space capacity when compared to larger crossovers.
FINAL THOUGHTS
The 2015 Subaru outback model is a quite improved model of a car that has increased its performance in various dimensions in terms of driving visibility, fuel efficiency, stability, interior comfort and safety among other features. The general performance of the car is great as it serves a variety of interests hence able to meet the needs and demands of people with different tastes.
The wide cargo space and highly admirable off-road performance makes it a suitable car option for families who occasionally are out on outdoor camping and adventures. The Subaru Company seems to be making progress in the provision of quality cars to compete favorably in the motor vehicle industry. The input into this new model is quite commendable as it has seen the provision of real-time solutions to customers in the market. Ideally, it is an all-round car for people who love outdoor activities. The driving experience is very easy both for the rural and urban environments.