Positives:
It offers a decent and faster typing, and as a second functionality it is a protective case. I may add simple set up.
Negatives:
It makes you shift through touchscreen and keyboard. The fingerprint sensor on iPhone 5S is covered. Disables autocorrect and there is no keyboard lock. Makes the phone a lot heavier.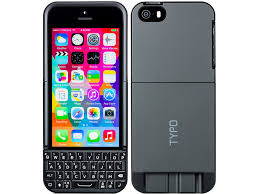 As you can read on their official page Typo 2 Keyboard is presented to the audience as a "revolutionary keyboard and case, currently available for the iPhone 5/5S/6 and will soon be released for the iPad Air and iPad Mini, guaranteeing a faster and more efficient typing experience. "
It was released in 2014 by Laurence Hallier (CEO/Founder), Ryan Seacrest (Founder) and Jonathan Goodrich (COO/Co-Founder) and since its release date there are many divided opinions about the gadget.
Let me start by explaining that this keyboard is consisted of two pieces and runs via wireless Bluetooth. The pieces connect around the phone and it becomes a protective case. It costs 99$ for iPhone 6, and 79$ a piece for iPhone 5 and iPhone 5S.
It sure looks and reminds a lot of a BlackBerry's QWERTY keyboard.
It saves the camera/flash opening, but it covers iPhone's home button which in fact is replaced with a substitute on the bottom-right side of the keyboard. It is charged with a standard micro-USB port and it was said that one charge should last up to 14 days. There is an USB port and one for headphones underside, although it's a rigid fit.
I must confess that at first this Typo 2 seems like a really great idea for all the touch-keyboard haters (including even myself) that are always typing on the go whether they are a blogger, a Twitter fanatic or just want to send an SMS to a friend.
On the other side, because as we all know there's always two sides of anything, there's a lot of bad user experience.
There is no keyboard lock, and if you press a button while your phone is in your pocket it activates your display. Let's be honest, that happens a lot, and it's leading to unreasonable usage of your battery.
Long-pressing a key has the functionality of capitalization of letters, also for period and comma you have to press Alt.
Another thing about what you can hear users complaining is that the Touch ID fingerprint sensor on iPhone 5S which is unavailable while using Typo 2.
When your Typo 2 is connected to your phone you kind of use the balance while holding it in your hand. The keyboard lengthens your phone, so you feel it a little bit tiring and complicated when using the phone. Because of this and the phone's size, may I mention that the constant shifting between the screen and the keyboard isn't a delight at all. The new bottom home is placed on the wrong place, right between Shift and Alt, and because of the small size of the keyboard buttons it is really easy to make a mistake while you're headed to hit Shift but you hit Home instead. Like it wasn't enough that you have to get used to the new Home button.
Further on, even the design decisions aren't that much successful. Many users say it has too many shortcomings, disadvantages and compromises you have to make when using the Typo 2. Some even say that it's just not worth it.
"The Typo 2 is a not well made copy of the Blackberry keyboard", as you can also read on the Internet. Blackberry even filed a lawsuit against Typo Products LLC for violation of intellectual property and attempt to copy the unique design of the Blackberry keyboard.
This gadget brings back memories of the old phones, fast typing and makes you bring out of drawer your old Nokia 3310 and forget about touch-keyboards. As cool as it might seems at first, to be honest with all the above mentioned details, people would agree that it is really not.
So all in all, whether you find Typo 2 Keyboard helpful or not it's really up to you to decide.