Bold ideas, shocking plot twist and big budget are not truly requisites for a successful movie. Sometimes, the small ones have the greater impact on the hearts and minds of the audience. In his "Before" movie series, director Richard Linklater brings us simple love stories with resonating values.
The series is all about Jesse (played by Etham Hawke) and Celine (Julie Deply), and their journey towards friendship, love and marriage. The movies were created nine years apart and each took place in one setting. Philosophical in nature, the "Before" series is overflowing with dialogues and heated arguments. The main characters are continually debating while walking, exploring places or reminiscing the moments these places remind them of. Though the couple have quite opposing personalities (Jessie being cynical and Celine being romantic), they always reconcile in the end, with hope and greater love.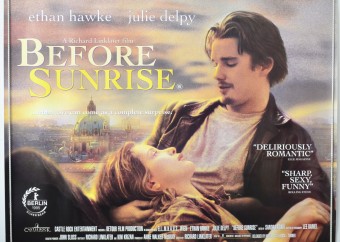 Before Sunrise (1995). The movie begins on June 16, 1994 with Jesse and Celine meeting each other on a train from Budapest. Celine is returning to a university in Paris while Jesse is catching a flight back to the United States early in the next morning through Vienna. They strike up a friendly conversation and Jesse manages to convince Celine to disembark with him. As Jesse does not have enough money to rent a room for the night, the couple decide to wander around Vienna.
They walk, talk and visit some landmarks in Vienna. They converse on diverse topics like love, life, religion, politics and about the city. At the top of the Wiener Riesenrad, they share a kiss and a romantic connection is instantly established. The kiss makes them more comfortable and they become more open with each other. Celine confesses that her boyfriend broke up with her six months before because she loved him too much. On the other hand, Jesse reveals the true reason why he is in Europe – that is to spend time with his girlfriend in Madrid, only to be avoided.
The night wanes and the two continue to walk and talk. At the Donaukanal, they encounter a man who writes them a poem. Soon, they admit their attraction to one another and knowing they may not see each other again, the couple end the night making love under the sky.
The next day, the two go back to the train station. After deciding not to exchange contact information, they agree to meet at the same place after six months.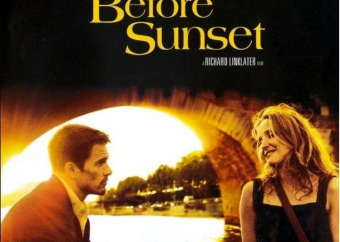 Before Sunset (2004). Nine years after the incident in Vienna, Jesse tours Europe to promote his book "This Time" which is based on his brief encounter in the city. While doing an interview at Shakespeare and Company bookstores, he spots Celine in the small crowd. After being reminded by the bookstore manager of his return to the airport in one hour, Jesse and Celine consummate their time together while exploring Paris. Initially, they talk about neutral topics like work and politics, but soon become deeply personal.
About their supposed meeting at the train station in Vienna, only Jesse was able to show up. Celine was hindered by the sudden death of her grandmother. Presently, Jesse has become a writer, is married and has a son. On the other hand, Celine has become an environment advocate and has a photojournalist boyfriend. The only common denominator between them is the dissatisfaction with their relationships.
As they walk and talk in Paris, and being overwhelmed by the beauty of the city, the couple rekindle the feeling they once had for each other. In the end, they set off to Celine's apartment. While Jesse has written a book about their brief encounter, Celine has composed a song which she plays on her guitar. It is then implied that Jessie may not have taken his flight back to the United States.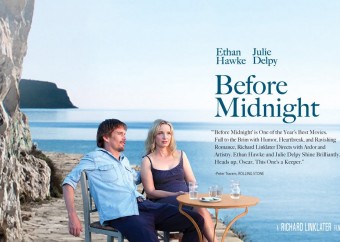 Before Midnight (2013). Nine years have passed since Paris, and Jesse and Celine are now parents to twin girls. Jesse also has a son named Hank from his ex-wife in Chicago. Jesse continues to be a successful novelist while Celine is still uncertain about her career path.
The movie begins with a scene in the airport in Greece with Hank being dropped off to fly home. Later, Jessie and Celine talk about Hank and their lives. Their conversation continues until dinner. As a surprise, friends who came earlier to visit treat them to a night in a hotel room. Walking all the way to the hotel, the couple reminisce their love story. However, upon reaching the hotel, they suddenly become overwhelmed with worries about the present and the future that they fight.
Celine flees into the hotel's outdoor restaurant. Jesse joins her later and proclaims his love. Celine is persuaded and the couple reconcile.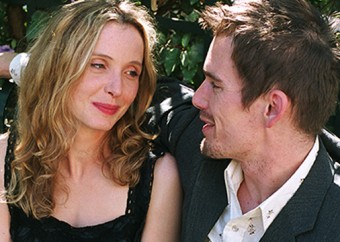 Verdict. The "Before" series is perhaps one of the best, if not the best, romantic film franchise. Each movie is roughly one-and-a-half-hour long, but within this short time, director Linklater triumphantly told a convincing and moving story. I love the endless conversations and I feel like participating in them. The myriad sites also added romanticism and extra flare to the films. Hawke and Delpy are also great onscreen, and their charisma just bloomed from the first to the last movie. It's like watching your respected neighbors whose relationship simply flourished through all the ages, despite all the challenges of fantasies versus real life.
Overall, the three movies are commendable. You can watch them in random since each has an entirely new story of its own. And for the coming Valentine's day, these are great films to remind us of how love truly exists in reality.