Positives:
Simple, scrumptious and practical every day recipes .
Dozens and dozens of pictures detailing every step in the cooking/baking process.
Beautifully designed; a feast for the eyes.
Negatives:
Can't we have a laminated version ? My copy has become very well used.
I'm kidding, no negatives to speak of.
I can honestly say that this cookbook has spoiled me for just about every other cookbook in existence.
But I'm jumping ahead, I'm jumping way, way ahead of myself.
Let me explain.
This cookbook: The Pioneer Woman Cooks: Recipes from an accidental Country Girl  is delightful in every way.  Written by Ree Drummond, this book, her first, is a compilation of her most well-loved recipes on her wildly popular blog: PioneerWoman.com.
The pictures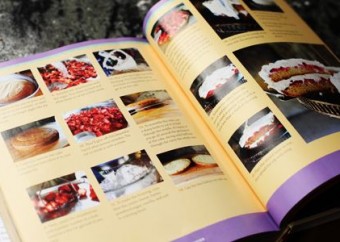 The recipes are classic American home-style comfort food:  Steak, Potatoes, Pot Roast, Chili  but somehow they are made new and exciting again by the pictures: oh the pictures in this cookbook!
Every single recipe has multiple pictures, not just of the end product but of the preparation steps as well.
I think it is this painstaking attention to detail that has endeared her to her readers.  Well, that and her quirky sense of humor.
Ree invites us into her world, one that not everyone is blessed to live in: , she is the wife of a real, honest to God rancher.  He runs the ranch and she runs … everything else.
She home-schools the couple's 4 children, runs the home, feeds not just her family but many of the ranch hands.  And does a darn good job of that.
But, I digress.
The pictures.
The pictures are everything in this cookbook.
They are stunning.  The food almost jumps off the page.  The design, colors, freshness and brightness are extraordinary.
And, as I alluded to earlier, the step by step tutorial via pictures makes the entire cooking experience seem less intimidating.   As well, similar to another cookbook review that I posted not long ago,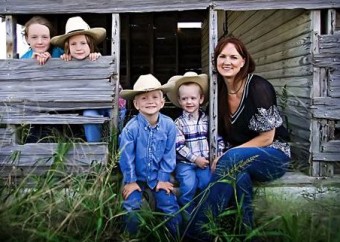 Ree Drummond sprinkles beautiful, glossy pictures of her own family and ranch throughout the pages of this cookbook, so that you feel like you are getting a glimpse into the life of a rancher family.
Not only that, just about every page is decorated beautifully with flowers and dogs and country knick knacks.  I can almost compare it to the feel of a private family scrapbook.  It's a feast for the eyes in more ways than one.
The Recipes
But this is not just a pretty little cookbook.  It's actually got depth.
The recipes look absolutely scrumptious and you can tell that they are her BOB:  Best of the Best.
But another thing?
They're practical.
These are recipes that you will make again and again.   If I was told today that I could only keep one cookbook, this would be the one that you would have to pry from me.  And I wouldn't make it easy to take.
These are recipes that you have surely made before, but somehow, Ms. Drummond's recipes are reliably accurate (they'll come out perfect every time) and her technique is very easy to follow.
Some of the recipes from this cookbook that I consistently use include:
Breakfast Potatoes ( so easy to make and a kid friendly accompaniment to eggs and sausage)
Simple, perfect chili
Pizza (This is the best pizza ever)
Perfect Pot Roast
Chicken Fried Steak  (OMG)
Twice Baked Potatoes
Comfort meatballs (A family favorite)
Creamy Rosemary Potatoes ( Amazingly decadent)
Ranch dressing (the best version)
Blackberry cobbler
Flat Apple pie
I promise you, these meals have become staples in my home, especially when we entertain friends.  Whenever we have served any Pioneer woman recipe, we have often received requests, more like demands for the recipes.
We have turned so many people on to the Pioneer Woman's cookbooks that we should probably get royalties for our efforts.
I'm kidding,
But not really.
If I could give this cookbook more than 5 stars I would.  It's a winner.