Review
SoundHound Review
Positives:
Simple to use.
Reliable tags.
Ability to recognize the song in only a few seconds.
Identifies singing and humming.
Negatives:
Unattractive user-interface.
SoundHound is a mobile app that's used widely for identifying and tagging a tune that's playing at the moment of speaking, or for recognizing a song sang or hummed by the user. SoundHound is available in a free version and an
add-free upgrade – SoundHound ~ for US $5.99.
SoundHound is present on the market since 2009.
My focus in this post will be directed to the current version that I'm using – SoundHound 6.5.0b-29937 Android Version.
SoundHound is very easy to set-up, with simple and user-friendly but in my opinion kind of unattractive interface.
Right after you install the app you can start singing, humming, or play a song for it to hear and recognize.
You can link the app with some of your accounts or create a new one. If you choose the option to create a new one, you are given the option to choose a registration through email or Facebook. Besides Facebook, you can link your SoundHound account with Twitter in order to share tagged songs.
You have an option to include your location, as well.
Your tagged favorites can be sent to your email, if you enable this feature.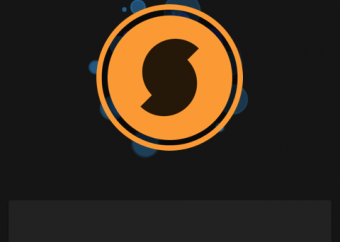 Using SoundHound is intuitive, of course, it's consisted of 2 pages and you can swipe through the pages or tap a shortcut on the navigation bar up.
On the Home page that shows right when you start the app, you'll see the big yellow listening button which if tapped starts identifying the song that you're listening to, singing or humming.
If you scroll down you'll see suggestion of songs that have been featured.
Above the big yellow listening button, you can see 3 buttons. The first one is your SoundHound account search history and favorites. The second one is Charts, which provides information about "Hottest" songs, SoundHound "Discoveries", "Most Tweeted Songs" or "Just Found By Users" songs.
The third one is the World Map – provides information about worldwide tagged songs by users shown on a world map.
In the right top corner there's the Menu button where you won't find any new features, just buttons that link you to Home, History, Charts, Map and the big yellow listening button – so nothing you can't do from the main page that's shown when you start the app.
Well, in SoundHound's defense, on this page is the Settings button and a Search Bar where you can search for artists, songs and lyrics.
SoundHound creates an acoustic fingerprint based on the part of the song it heard and compares it with large database records, just like its competitor Shazam does.
The power of SoundHound comes from the fact that once it has identified a song or humming, as a result it offers not just a title and a name of the artist or album, but a lot of information and suggestions from similar artists or links to tour dates for the artist.
You can listen the song right away directly from the app, search it on YouTube or purchase it from Google Play Store.
Another cool feature is LiveLyrics – if lyrics are available SoundHound will show them and even scroll them in real time synchronized with the music.
In conclusion, SoundHound is very useful and powerful app that keeps head-to head with its competitors.
The identification of singing or humming a song by the user that SoundHound provides as it's main feature is a great advantage regarding Shazam. Personally I loved this feature, but to be honest the not-so-attractive interface did influence a lot in my review.
However, SoundHound is impressive in the ability of identifying many different types of music, even the not-so-popular "unknown" tracks.
If I have to choose between SoundHound and Shazam, which is a tough choice, I'd probably go with Shazam.
Lucky me that I don't have to do that. 🙂