Positives:
Easy to use and install
Solid build quality
Reputable brand name behind it
Multifunctional
Can be used with a wide variety of platforms
Consistent performance
Negatives:
A bit over priced
No standalone playback controls
Limited app support
MOST of us have tablets these days. Whether it's for work, play or a bit of both; we all enjoy having what is essentially a slab of electronic genius in our hands. There are so many things to do on tablets that help and entertain us, but occasionally we grow tired of looking at that tiny screen and often want something bigger and easier to see, not to mention allowing our family and friends to join in. Now, Google has effectively told tablet owners that they no longer need to be confined to their 8.9″ screens and can happily enjoy 'streaming' content from their tablet to the big screen. I'd say the Chromecast isn't necessary for your tablet/pc, but it's a nice 'add-on' that is really useful at times. Welcome to what's known as 'casting' (I'm sure the boffins at the Oxford Dictionary are preparing already).
CASTING
Tablet owners can choose from a variety of apps/sites/software that are 'cast compatible' (yes, sadly you can't cast everything yet). These typically include BBC iPlayer, Netflix, Youtube, BT Sport, Now TV, blinkbox, Google Play, Google +, vevo, wuaki.tv, Chrome and Deezer. But there are plenty of other apps and web content that can be streamed too and that number is growing as more manufacturers start to realise the potential of the device. It's typically useful for browsing the internet in large mode, seeing photos in their full glory, enjoying a movie with friends or for use at work.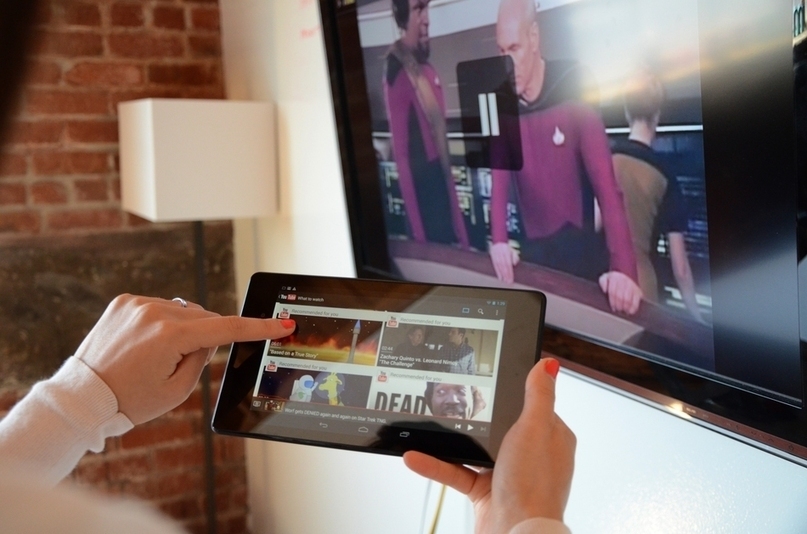 FUNCTIONALITY
It's good to know that Google's Chromecast supports both Android and iOS on the mobile front and, if you're a PC user, Windows 7 and Mac OS 10.7. Once you've got it out of the box, it's just a question of finding the USB/HDMI port on your tv and plugging it in. There's no need to install anything, the Chromecast does the rest. Once you have the video or image you want, just look for the little picture of a tv with a wireless sign on your tablet/pc, press it and the content will shoot to the big screen. My only gripe with the playback options is, there are no central controls. This makes it particularly annoying when you want to do things quickly and efficiently. A nice, big and easy-to-access playback control interface would have been a nice addition. That said, if you're using a smartphone, you can use it as a controller. The apps it does support work exceptionally well and there's no lag or stuttering you might get on cheaper, cloned versions of the Chromecast (yes, there are lots of companies out there offering similar, cheaper offerings). It offers the useful ability to cast 'tabs' (typically found on Google's browser, Chrome), where you can cast each tab separately without having to cast the entire browser to your tv.  Although, when I tested the Chromecast that was sent to me, I was surprised that video content when tab casting was pixelated and, generally, a bit poor.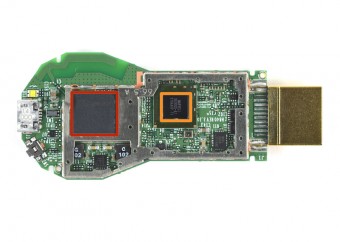 PRICE
Now, as useful and fun as this little addition from Google is, it's a bit on the expensive side; retailing in most stores at £30 ($46). There are replicas like the EZCast costing less than half the price of the Chromecast and you're still limited to the apps that are compatible with the device. For these reasons, I feel Google should be posting it at around the £19.99 ($30) mark. But remember, you're paying for the brand here. Similarly to anything Sony or Microsoft, you're paying premium prices for 'premium' products. You can find second hand alternatives online, but the price difference is negligible. Some commentators will say the retailing price is low but when you think that, these days, people have multiple tv's in one house, £30 starts to add up!
VERDICT
The Chromecast is a simple idea and design that turns your entertainment world from small to big. It's easy to use and gives your family and friends the opportunity to call on their own devices, along with yours, to stream content on the tv. There are alternatives out there that cost less but I can't guarantee their level of performance when pitched against the Chromecast. But as a rule of thumb, it's always best to do a bit of research first if you want to look for something a little cheaper. I still think the Chromecast is a bit on the pricey side, but the compatible apps work well and should give you the enjoyment you'd expect from a well established brand. It is a shame that manufacturers aren't keeping up with the times and this is why we're seeing a very slow integration with the Chromecast. It's nice you can watch Netflix etc. but had you been able to cast everything from the word 'go', the price issue I was talking about earlier would have been less of an issue.